Heads up, our season is about to start as early as this Saturday. Check out the events below for what is coming up soon and of course our ultimate calendar is available here
Tell a friend and pass it on.
Driving Events Ground School
March 23, 2019 @ 10:00 am to 2:00 pm at HMS Motorsport
Our annual Performance Driving – Ground School will introduce you to each of our different types of driving events. We will teach you everything you need to know to become a participant. If you have been thinking about trying one of these events – this event will help you make up your mind. PLEASE REGISTER AT THE LINK BELOW OR CLICK HERE.  
Cars and Coffee – Icebreaker Edition
March 30, 2019 @ 9:00 am to 12:00 pm at Brewed Awakenings
 An Icebreaker Edition of our regular Cars & Coffee!  Warm up with a nice cup of hot coffee from Brewed Awakenings in Wakefield RI.Please join us for our monthly casual gathering in Southern RI. Take a ride through Scenic Wakefield RI to enjoy some delicious coffee, beautiful cars, and great conversation. * We are always looking to add future events and locations, please tell us your ideas! Good Company, Good Conversation & Good Coffee.
General Meeting – BMW Norwood
April 3, 2019 @ 7:00 pm to 9:00 pm at BMW of Norwood
First of the year General Meeting. 
Where: The great folks at BMW of Norwood (now part of the Prime Motor Group) are hosting our first all chapter meeting for 2019.  This is a great opportunity to meet folks from the club and enjoy some of the benefits of being a member of the BMW CCA. Special thanks to GM Alex Archer for providing food and beverages for the evening. The meeting will be on Wednesday, April 3rd located at their M-Center upstairs at 918 Providence Highway (Rt. 1 Northbound) Norwood MA 02062. The meeting will start at 7PM and end at 9PM. 

Parts Discounts: Gus Andrade, the BMW Parts Manager will be offering a 25% parts discount for this evening only with the parts department closing at 7:30pm. We suggest you call ahead to (781)278-1414 to arrange for your parts order for pick up that evening or you can order that evening for later pick up and get the discount too. Note you will need your membership number to participate. 
BMW Test Drives: BMW Norwood will also be offering short test drives in the new 3 Series, Z4 and X7. The Test drives will be scheduled from 5:30PM to 6:30PM. You must contact Rob Picerno at 781-278-1268, Extn. 1011 to schedule an appointment to Test Drive one of these BMWs. Also you must present a license in order to drive one of the vehicles. 
Guest Speaker: Our speaker will be Peter Bourassa. He is the Publisher & Editor of the weekly motorsport newsletter Motorsport Marketing resources. Peter has been involved with several American & Foreign vehicle manufacturers over the years. He has had a successful career in motorcycles as a sales manager for Ducati-Laverda & Suzuki. Later on he was in the automotive aftermarket parts with companies like Champion Spark Plug, Standard/Blue Streak Ignition products. He will talk about his Newsletter, the MMR, focused on insightful information about current happenings in the Automotive Community, & Racing (F1, IMSA etc). In addition he will go through the past, present and the future of replacement and performance parts, both OEM and Aftermarket. 
Are You Feeling Lucky? There will be a drawing for some BMW CCA grill badges and other raffle items drawn that evening for which you will need to be a verified BMW CCA Member to participate. 
Registration: Please register for the event HERE so that we can get a head count for food and seating. While this event is free, if you need to cancel please do so on the website. This will be a fun filled evening see you there!
Autocross – Test and Tune
April 7, 2019 @ 7:00 am to 5:00 pm at Moore Airfield
We very happy to announce that we will run a Test and Tune for Advanced Drivers only on Sunday April 7th. This is by far the most fun, bang for your buck on the runways. This event will provide you with tons of seat time to really make sure all that winter rust is gone! In order to participate you must have 2 or more years of autocross experience.
The event has limited registration to ensure tons of runs for each driver.

Unlimited runs on both a 30-second timed course and multiple practice elements.

You get more seat time in your car during the day than any other event we host.

You can jump in your friends cars.

You and your friends can switch cars!
$95 entry fee. Registration is limited to about 60 people. Please register on Motorsportreg.com. The Autocross Series is open to Boston Chapter BMW CCA members. If you are not a member of the Boston Chapter BMW CCA, you may join for only $48 per year. If you are a BMW CCA member, you may add the Boston Chapter to your current membership. You do not have to own a BMW to be a member of the BMW CCA. Click here to add BMW CCA Boston Chapter Autocross to your account. All events are held at Moore Airfield in Ayer, Massachusetts (entrance at 90 Fitchburg Rd., Ayer, MA). Schedule: This is an all-day event with two running sessions and two working sessions. Please do NOT sign up if you can not stay the full day.
Gates Open:        7:00 AM

Tech Inspection:  7:15 – 8:00 AM

Drivers Meeting:  8:00 AM

Course Walk:       after the Drivers Meeting

First Car Off:        9:00 AM

Event concludes:  between 4:30 PM and 5:00 PM
CABIN FEVER – HPDE – New Hampshire Motor Speedway
April 20, 2019 at New Hampshire Motor Speedway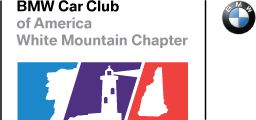 Kick off the driving season with the White Mountain and Boston BMW CCA Chapters!  Our always popular season-opening Cabin Fever High Performance Driving School at New Hampshire Motor Speedway is Saturday April 20th.
These High Performance Driving Schools are suitable for all skills levels from Novice to Expert.   We welcome all makes of cars at our schools — you don't have to drive a BMW to enjoy our events. This school is an excellent way for you to improve your driving skills and have fun too! CLICK HERE to REGISTER
Undercarriage Tech Session
April 27, 2019 @ 4:00 am to 9:00 am at North Shore Motor Werks
Boston BMW CCA – Undercarriage and Tech Session
Your ultimate driving machine is what it is in part because of it's great suspension. The New England winter takes it's toll on this fine engineering and perhaps your ride doesn't feel or sound like it should. So, here is your opportunity to have your car inspected free of charge by the great folks at North Shore Motor Werks to see where that rattle is coming from or why there is an extra hop in your giddy up.
This event will be fun and educational. You won't want to miss it and the event will fill up fast so sign up early! This event is limited to the first 15 current BMW CCA members to sign up. James Hart, the owner of the shop has graciously organized three Technicians available to help out that day. Participants will be assigned a time slot on a first come served basis by Friday, April 26th. 
Please block your time from 8AM-12 Noon to attend the Event. All cars will have a complete undercarriage inspection by Technicians; they will make recommendations for any noted concerns based on what they observe. If you need to cancel please do so before the Close Date (4/25) so another person can take your slot.
There is a 10 % discount on BMW Parts and Service at all times for current BMW CCA members. Coffee & bagels will be available courtesy of the owner James Hart.THIS EVENT STARTS AT 8AM RAIN OR SHINE – Please be there on time for your time slot. CLICK HERE TO REGISTER  
AC3 Advanced Car Control Clinic – Lime Rock
May 11, 2019 @ 8:00 am to 5:00 pm at Lime Rock Park
In addition to the Boston Chapter's usual Advanced Driving Skills School (ADSS), we are now offering our Advanced Car Control Clinic (AC3). AC3 utilizes the Skid Pad and Auto Cross course on the upper level at Lime Rock. ADSS is designed to introduce and develop car control skills, but AC3 will help take your car control to the next level! Click HERE for more details and Registration
Street Survival – Advanced Driving Safety for Teens
May 18, 2019 @ 4:00 am to 1:00 pm at New Hampshire Motor Speedway
It's more than driving – it's about living!  
The primary emphasis of Tire Rack Street Survival is a "hands-on" driving experience in real-world situations! We use your own car to teach you about its handling limits and how you can control them. The students will become more observant of the traffic situation they find themselves in. They will learn to look far enough ahead to anticipate unwise actions of other drivers. As the students master the application of physics to drive their cars, they will make fewer unwise driving actions themselves. They will understand why they should always wear their own seat-belts, and why they should insist that their passengers wear seat-belts, too! CLICK HERE FOR REGISTRATION AND DETAILS 
Autocross Points Event 1
May 18, 2019 @ 7:00 am to 5:00 pm at Moore Airfield
Autocross is a competitive mid-speed precision driving event where drivers pilot their cars through a coned obstacle course, with often confusing paths, in order to determine the amount of time it takes to successfully complete the course, from start to finish. The Autocross Series is open to Boston Chapter BMW CCA members. You do not have to own a BMW to be a member of the BMW CCA. All events are held at Moore Airfield in Ayer, Massachusetts (entrance at 90 Fitchburg Rd., Ayer, MA). Click HERE for details and registration.
Autocross Points Event 2
June 2, 2019 @ 7:00 am to 5:00 pm at Moore Airfield
Click HERE for details and registration.
Want more control over what events are displayed?
Check out Event Calendar Newsletter Pro:
Additional Filter Options
Filter by one or more categories, tags, and things like Featured Events depending on your calendar
Group Events
Group events by day or month, making it easier for users to see the events they are interested in
Custom date range
Choose events in a specific range, or even starting a certain time in the future
Automate sending
Automatically include events in your MailChimp, MailPoet, Active Campaign and several other newsletter sending tools!
---
Get 20% Off!
Just enter your name and email and we'll send you a coupon for 20% off your upgrade to the Pro version
We promise not to use your email for anything else and you can unsubscribe with 1-click anytime.
---
Like this plugin?
We'd love if you could show your support by leaving a ★★★★★ 5 star review on WordPress.org!